Original and fresh with a world music flavour, there's not a single hint of cheesy cliche or overdone production, pitfalls that can be rampant in this genre of music.
Listen 🎧
Embrace the Moment comprises six instrumental tracks that ebb and flow to a full 80 minutes of blissed-out sound.
This is ambient yoga music at its best.
Its subtlety and seamlessness make it ideal for yoga and other practices that require a certain level of groundedness and concentration. It ambles along inconspicuously in the background, gentle, calming, and uplifting, without being distracting.
While the album was created to enhance any yogic or therapeutic practice, you don't have to be into yoga for it to appeal. It works equally well as an album of super chilled-out sounds that bring a relaxed vibe to any activity.
Play it while you write, create a work of art, hang out in the garden, cook dinner, do your tax or have a luscious massage whatever the experience, it will definitely be enriched with this music as an accompaniment.
The masterminds behind the music are multi-talented Australian brothers Herrin and Jai Larkan, both successful musicians in their own right, who teamed up to write, perform and produce the album. They invited Krisna Lane from Aussie band OKA to add gorgeous flute solos, a smart move, as the flute really adds a certain magic to Herrin's and Jai's subtle vocals, acoustic guitar, percussion, piano, keyboards and programming.
The interesting thing about this music is that it feels completely timeless and is highly accessible without sounding commercial. It transcends culture, sub-culture, language and age, so you could safely buy it for your partner, mum, grandma or second cousin twice removed and be guaranteed they'll love it because there's simply nothing not to love about it.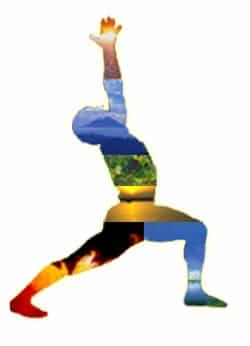 Embrace the Moment has a kind of poetic beauty about it that seeps into your being without you noticing. Before you know it, 80 minutes is up and you're pressing the play button again. And again.
Overall, it's a nurturing sound journey grown out of a wonderful synergy between three highly accomplished musicians who obviously have a deep understanding of how to use light, shade and space to bring an enduring and captivating quality to their stunning musical arrangements.
Review by Leigh Robshaw
You can download this album by itself or as part of The Ultimate Yoga Music Bundle.