It's not often that music and astronomy come together in one story but…..
Did you know that BRIAN MAY the guitarist for the phenomenal band QUEEN, studied Astronomy back in 1974 at the Imperial College London?
Well apparently he did and his thesis was titled "Radial Velocities in the Zodiacal Dust Cloud" which seeks to prove planets and dust clouds in our solar system orbit in the same direction.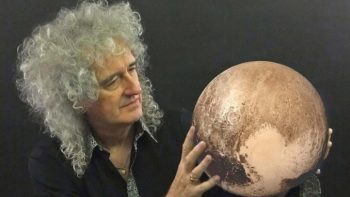 Well after thirty years of rolling around the heady world of rock stardom, Brian decided to pull his socks up, blow off the dust and finish his doctoral thesis in August 2007.
He handed all 48,000 words of it to Imperials Head off Astrophysics Professor Paul Nandra.
May's thesis was approved and he passed an oral exam to be given his doctorate, so now he can call himself Dr. Brian May – lead guitarist of that extraordinary band, Queen.
"What matters is that this stands up in the future and that there will be no holes in it." Brain, I mean Brian said, referring to the subject matter of his thesis.
He has also co-written a children's science book with astronomer Sir Patrick Moore titled "Bang! The Complete History of the Universe".
Imagine what would have been if he'd decided to put his guitar in the cupboard and had become an astronomer instead?
Or more perhaps what would not have been.
No "Bohemian Rhapsody", no "We Are The Champions" or "Under Pressure". (well I think that would have been all right if that song had never existed), but instead we were given albums full of great songs and also the world's stage was graced with the presence of the Queen himself, Freddy Mercury who always struck me as someone with an outrageous sense of humour.
I often thought that if I could choose five people to have dinner with I would have chosen, Billy Connolly, Jesus Christ, the inspiration of Pink Floyd and Freddy Mercury, the fifth is a mystery guest I wouldn't know about until they arrived and all this would happen on a rooftop in Galilee, all under a beautiful summer's midnight sky.
Well, that's one of my fantasies, the other is being a better guitarist than Brian May but don't dare tell him that.